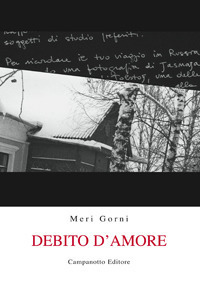 Dialogue: Meri Gorni, Federica Rocco, Laura Safred about the Debt of love
Studio Tommaseo, via del Monte 2/1, Trieste
Saturday, 3th February 2018, 6 p.m.
Everyone has own authors and books of choice, with which we maintain a lasting dialogue: the author speaks to us from the text and we talk to the author, reacting with thoughts, words – sometimes even with works – to his thoughts and words. Meri Gorni gives voice to this dialogue with a book, Debito d'Amore, composed by letters she wrote in the space of a year to intellectuals and writers, who deeply increased her intellectual and artistic inspiration. Dialogue is an inexhaustible source of images, which Meri Gorni, visual artist as well as writer, makes visible, exploring the authors and revealing unexpected characters and relationships. As Debito d'amore is therefore also a, unpredictable gallery, this will be the venue where it will be presented in a three-way dialogue between the author, Federica Rocco and Laura Safred.
Debito d'amore is published in Udine by Campanotto in the Zeta Rifili serie in 2017.